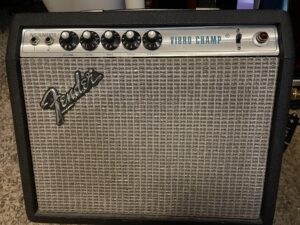 Vintage amps are one of holy grails for a number of musicians, who often have too many holy grails to count. I've always wanted one made in 1978, the year I was born. As you can tell by the title, I had the chance to own one, and by the section of the site this page is in, I no longer own it.
Like so many other things, amps were just made different back then. These old '60s and '70s era amps didn't use printed-circuit boards (PCBs) and were instead wired point-to-point (PTP) making maintenance and repairs as simply as unsoldering and soldering in a replacement component.
The Fenders, Marshalls, and a whole slew of boutique amp makers play to this with reissues and clones of these old amps down to NOS electronic components, transformers, and "as close as you can get" speakers.
Heck, I own a Princeton Reverb Reissue (PRRI), though with a 12″ speaker instead of the typical 10″ that came in the old versions, and one of my favorite all time amps is the Deluxe Reverb Reissue (DRRI) I used to own.
The downside to vintage amps is the price, and it's only gotten worse over the years. When the chance to buy a Vibro Champ that was described as being made between "1977 and 1979, but likely 1978" for the right price, I snapped it up.
Little guy; Big vibrato
What did I mic it with?
Saying Goodbye
Would I suggest it?
Little guy; Big vibrato
The Vibro Champ is a 5-watt amp with a tiny 8″ speaker. It's not going to win any volume awards, but it, like the vibrato-less Champ, is great for cranking up the volume to get that sweet overdrive-tube breakup that people love but at volumes that won't leave your ears ringing for hours.
With the 8″ speaker comes the downside of that even when you cook the tubes, you're still having to deal with a speaker that's going to bottleneck your potential. You're not going to be heard over most drummers and if you're after clean tones, you aren't going to have a ton of headroom before the amp starts to break up.
For someone like me that plays at reasonable volumes anyway, this wasn't too much of an issue. I wasn't getting the tube breakup that is the strength of these amps, but I also wasn't pushing volumes where the 8″ speaker was immediately a hindrance.
What I did get out of the Vibro champ was that legendary Fender tremolo. My PRRI has it, but the Vibro Champ absolutely and unequivocally left the Princeton Reverb in the dust. It was rich, it warbled in a way that the PCB driven PRRI didn't, and it came through so clearly. The first moment I actually sat down and played around with it was magical for me.
What did I mic it with?
Saying Goodbye
Would I suggest it?
I'm glad I bought the Vibro Champ and equally glad I sold it. In the end, it was an avenue to an amp that fits my needs much better than it did.
It also scratched the itch I had to own a vintage amp from my birth year, at least for now.
The biggest thing it had going for it was that it was PTP and that made it cheap to repair, but repairs are something I've not really had to deal with too much, especially given the number of amps I've owned over the year.
I hope the person that bought it from me has enjoyed it and made better use of it than I did. I haven't seen it pop back up on Craigslist or the Facebook gear groups I'm a part of, so perhaps that's a good sign the little guy found a good home.
In a world of noise, be sound