Owning a Vintage Guitar
I was born in 1978 and for the last few years, I've had a desire to own instruments and amps from the year or, at least, the decade I was born in. Unfortunately, vintage instruments have increased considerably in price. This has tempered that desire quite a bit.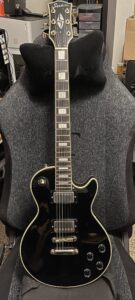 Recently, however, I came across someone on Craigslist that had a 1980s Burny Les Paul copy for sale.
The Japanese-made Burny models, along with Orville and Greco, are often spoken of quite highly as quality instruments that compared favorably to their American counterparts.
That made me realize that there was a whole slew of guitars out there that would fit the "made in the 70s", as long as I was okay with not having a Fender or Gibson. I was and still am.
Does it Have to Be a Fender/Gibson?
I poked around on Reverb searching for some 1978 made guitars. I found one that really interested me, a Hohner Telecaster Deluxe, but it sold a few days after I added it to my watch list. My hesitation to pull the trigger cost me the chance of obtaining it, as when I'd gone to add it to my cart, it had been sold.
I then started searching again and found the Session for $400 and it was being sold by someone local. I reached out, asked a couple of questions, and off I went. I talked to Big John, the guy who does my guitar work, most of the way there and what to check and look for based on the pictures in the listing.
I walked away with the guitar.
The Neck - Set vs. Bolt-On
The Body
The Electronics
The Neck - Set vs. Bolt-On
One of the very common feature of import Les Paul copies is that the necks are bolt-on necks instead of set neck, or glued in, like actual Les Pauls are. This results in a lower cost to produce and a lower price to pay nowadays. You can find some import Les Paul copies, especially Korean (MIK) or Chinese (MIC) models, for $200 or so.
The fact that this had a set neck for the price was pretty nice. The neck is very comfortable to play, the frets have plenty of life left in them, and the only gripe about it is that it's set up a bit slinky for me, which means the previous owner likely used a set of .10s instead of the .11s I favor for my Les Paul-scaled guitars.
The binding on the side of the neck has cracked where the frets are, which seems to be a common trait in the guitars I've looked at. The neck ends in the Gibson open book headstock, and the tuners aren't the typical cheap tuners found on these imports. The tuners aren't GREAT by any means, but they work. Ultimately, if I were so inclined, I could buy nicer tuners and not have to drill new holes in the head.
The Body
The Electronics
In Conclusion
Was buying this maybe MIJ/maybe MIK guitar for $400 a good puchase?
Yes. I'd invested roughly $200 in the Hondo H-737 and was willing to accept it, warts and all. The Session is a significant step up, not only in aesthetics but with the set neck, tuners, and sound.
I picked both the Session because I wanted to have three humbucking guitars: the Les Paul Classic, the ES-339 semi-hollow, and the Session. Now, with my purchase of a 2012 Les Paul Traditional, I have four.

If for some reason I ever sold the Les Paul Traditional, it'd be great to have this fill that role again. I can only imagine that 197x guitars are going to get more expensive and to have one that's already a "winner" would present a great solution to a currently non-existent problem.
Would I suggest you buy a Session, Gession (some online information indicates two are the same brand), Memphis, Hondo, Aria, or any of the other countless copies? If you can play it first, or buy it from a place that has a good return policy, especially if it has a set neck and you know someone that can correct the warts it will come with. Sure. 100%.

Unfortunately, there are A LOT of stinkers out there, and I believe I'm lucky to have found two, especially back to back, that were diamonds in the rough.