The PRS SC245 McCarty Soapbar is probably the "nicest" guitar I own. The color is called "Amber Burst" and might actually my favorite finish of all of the guitars I've owned.
The SC in the model name stands for "singlecut" and the 245 indicates the guitar's scale length of 24.5″, both of which are normally found in the Gibson Les Paul type guitars and not the typical PRS scale length of 25″.
The headstock also shares the headstock of the PRS Santana line and features a flame maple finish as well. The bird inlays of the neck are mother of pearl, and the pickups in my model are soapbar shaped P-90s, which are hotter than a normal single coil pickup but do not eliminate the 60-cycle hum like humbuckers do. Mine also features a "10-top" which is how PRS describes the more prominently figured flame maple top.
The '09 PRS
It Hung Upon the Wall
Back the Very Next Day
The Intervening Years
Unfortunate Damage
The Future
The '09 PRS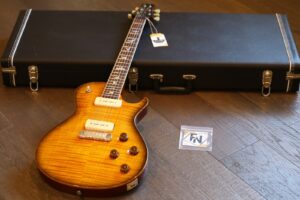 Back in 2009 or early 2010, I was more or less still at the start of my journey into the larger world of buying nicer guitars than your lower-mid level Fender strats or Epiphone Les Pauls.

I think I'd bought and traded a nice Fender American Standard from a guy off of The Gear Page because it smelled like smoke (which I was able to finally get rid of) and it would one of many strats I've owned and been unhappy with.
My wife had been involved in an automobile accident and broken her wrist. As she was not at-fault we sued the insurance for damages.

Eventually, we were awarded a decent sum of money (something we should have been smarter with). She told me, "Go to Guitar Center and buy any guitar you want, within some reason". I had the opportunity to buy basically any guitar I wanted outright.
It Hung Upon the Wall
Back the Very Next Day
The Intervening Years
Unfortunate Damage
The Future