We're halfway through 2023 and a little over a month out from where I gave myself the possibly unrealistic goal of releasing a 14-song album alongside a re-release of the 28 original songs I've released between Volumes One through Three and the singles "Go On", "It Feels Familiar", "Fire Intro Song", and "Crashing Through the Heliosphere". It's a good load of work for someone who previous experienced significant burnout after six months' worth of work.
Looking back, I messaged my friend, Cotie, about coming up with artwork for the first single, "To Those Who've Said Goodbye" (now referred to as TTWSG), on May 27th. I already had the song recorded, so without checking the date the Studio One song file was created, let's say that I started work on May 20th.
In the 44 intervening days, I've completed writing on three songs: the aforementioned "TTWSG" and two additional songs, "Another Day Without" and "The Best Revenge", the former of which has been uploaded to the distribution service I use and is already up on YouTube Music.
I should be doing these posts as I write and release the song, but, alas, I didn't have that kind of foresight
"Another Day Without"
"The Best Revenge"
What I Used
"Another Day Without"
The Verse
I'm about to talk about some toddler-level music theory because, honestly, I don't know much about the subject. If anyone who knows even the basics of music theory reads this (well, nobody will actually read this, but that doesn't stop me), you have my apologies.
I've long been fond of adding notes that move around a droning root note, generally on the E or A strings. It's a simple, but effective, tool that sounds great, and I've been abusing it regularly for at least 20 years. My common go to is adding a 3rd (or is it a 10th?) an octave up. With E, this means adding an Ab on top of it (the 11th fret of the A string), or adding an a Gb to a D (most commonly the 4th fret of the D string while in Drop D tuning). You can then move that note up a fret to add a 4th or down two frets to add a 2nd. They're all simple additions used in guitar and vocal lines alike-, one that's been used by countless musicians in the past (and famously in the Smashing Pumpkins song "Cherub Rock").
I was messing around with a simple movement in Drop D and decided to start things on G. When I play these notes, I tend to do octaves, so I was playing the G at the 10th fret of the A string and 12th fret of the G string. I then did a basic walk down from G to Gb to E and then to D. I changed it up by going back up to G, quickly resolving that to Gb, and then back down to D. Easy peasy, low level stuff. That progression made for a nice, laid back verse.
I varied the movement of the notes the 2nd verse and the 3rd verse at the end of the song to change things up a bit, but I don't expect most listeners would notice.
The Chorus
I then had to change things up on the chorus and went with a really off the wall chord I learned from playing Soundgarden's "Black Hole Sun": G6sus2(#11), except I moved it up to Bb to make it Bbsus2(#11). I then resolve the chord as seen below to make it a nice, simple Bb6sus2, chords I wouldn't know if I hadn't found Yeah, a Guitar Chord Analyzer on Google.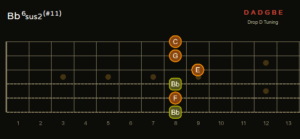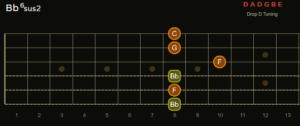 The drums I found in Superior Drummer 3 would go on to shape the rhythm I'd attempt to play the chords in, and, if I recall correctly, are actually a bunch of fills back to back. I did edit some of the drum hits to better go with the note movements I was doing, but kept things stock as much as I could.
I then played a G7no3 (as seen below) where I move that F to a G to make a really overly complicated 3-octave G5 power chord. I thought it sounded cool, and my tiny music brain is easy to please.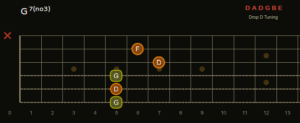 The 2nd guitar part I'd end up writing accentuated the E to F of the Bb chords, but for the G chords, I wrote descending harmonizing notes.
The Bridge
The bridge would follow as a fairly vanilla Eb – F – G with a walk up to A – Bb – C – Dm – C – Bb – C – Dm – Eb – Db – C. I can't recall if the drum grooves were a halftime feel by design or if I ended up doing that. I know I altered the bass drum hits and added cymbal hits on each chord change, but I can't recall the original placement without getting into SD3 and looking.
At this point, I liked where the song was going but it lacked something of substance, but it wasn't a second guitar part that I was hearing in my head. It was a piano part. I did put a 2nd guitar part together, but it mostly just mirrored what the rhythm guitar played by playing the D string and playing notes on the G string that matched what the rhythm guitar did. \
The Keys
I'd used Toontrack's EZKeys to put piano parts into some previous songs. I'd take a MIDI groove, change the chords to fit my song, but the original EZKeys lacked a step editor, so I was stuck with the way the grooves were played. That changed on May 16th, 2023 when Toontrack released EZKeys 2. This version did include a step editor, so I figured I'd find a groove I liked, change the chords, and adjust the notes being played in those chords to fit whatever my needs were.
Then I remembered, my cousin, Rachel (the namesake for the song "Rachel" on Volume One) married a dude named Jonathan that can play piano. I asked if he'd like to contribute some keys to this song and he agreed. The challenge was getting the part he'd written to me. He wrote and recorded a part for the chorus, sent me the audio of it, and then he and Rachel played that audio back while simultaneously playing the song, but lining stuff up like that is hard.
EZKeys 2, unlike the previous Toontrack release of EZBass, does not include an audio tracker so I wasn't able to use the audio to create MIDI I could edit, but Jonathan was able to use a keyboard to get MIDI into a program and then mail me the MIDI file. That did the trick. I also threw some basic pads over the verses: a droning D sustained and hit on every time the guitar changed the note it played.
I imported the MIDI in, but ended up changing up a bit of the arrangement to better fit the idea I had in my head. I cut out parts he played over the guitar chords, as I'd originally envisioned the guitar chords playing and the keys playing in the space between the chords. I checked in with Jonathan to make sure he was good with the changes I made and he offered a suggestion on the timing of the chords you hear in cycles 3 and 4 of the chorus. He suggested they be on the up of 1. I'll be honest. I…didn't like the suggestion at first and hesitated to make it. However, after further listening, I decided to compromise and move the chords to 2, 3, and 4 because THAT, at least to my ears, did sound better. Another friend suggested the cymbal hits on 1 didn't sound right before the chords on 2, 3, and 4, so I moved the cymbal hits and that section came together.
Realizing the keys dropping out when the guitar played a chord didn't sound right, I built the chords pictured above and approximated the rhythm I played the guitar chords on. For the G chord, I put in key hits walking up to mirror the guitar.
Using EZKeys 2, I found a bridge groove and rearranged the chords to fit and adjusted a few notes to better work within the chord progression above.
I used the word "personality" to describe what Jonathan's part gave the choruses of this song. Badass is another word that I think fits. My friend JD said the song reminded him of rock music from the 70s, like Pink Floyd, that would have these really cool keyboard parts and I have to agree. I used the Classic Electrics expansion and specifically the Rhodes Mk-1 preset "1970s" which has a phaser and distortion effect, though I lowered each significantly.
The Bass
My approach to bass was simple. I played a lot of drop D, D an octave up, and G. I tried to play G when the guitar hit a G note too. I kept this bass part simpler than most of my relatively simple bass parts.
The chorus and bridge simply followed the guitar…I think. I could listen to the song and confirm, but I'm lazy.
"The Best Revenge"
What I Used
In a world of noise, be sound

– KC