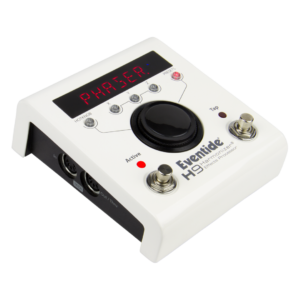 I've owned a few modulation pedals over the years, and most guitarists can say the same. I had the fortune of owning an old MIJ Boss CE-2 that I bought for $30 back in high school with one of my first paychecks (it was subsequently stolen by one of my cousins), owned a couple of old Ross Phase R1 pedals, a Ross Phaser/Distortion pedal, some EHX Small Stones, a Line 6 MM-4 Modulation Modeler, and more that you can find on the Pedals of the Past page.
Even when I had the MM-4, the only effects I made any real use of was tremolo and phaser.
What is Modulation?
Perhaps you've stumbled onto this page and you're not sure what modulation is. Most people wouldn't have the foggiest place to start for most of them. It, like so many terms in the guitar world, is not exactly all that clear. Let's provide some examples of the frequent kinds of modulation.
Chorus: The opening to Nirvana's "Come As You Are"
Phaser: The opening to Live's "Lightning Crashes"
Tremolo: The main guitar to REM's "Crush With Eyeliner"
Flanger: The opening to Van Halen's "Ain't Talkin' 'Bout Love"
Rotary: The high, clean notes on Soundgarden's "Black Hole Sun"
But the H9 is far from just a modulation pedal. Far, far from it.
Why Did I Choose It?
When I sold off my TC Electronic Nova System and started rebuilding a pedal board, my attention turned towards obtaining a tremolo, phaser, delay, and pedal. I called up and spoke with my Sweetwater rep, Nich, and started talking about my plan. That's when he suggested the Eventide H9 Max and reasoned that I was about to finance at least $400 if not $500, so it made sense to pay $200 more to get the Max and have access to a flangers, rotary effects, octaves, choruses, and pretty much every other kind of effect.
I remembered Eventide once being the flavor of the month when it came to "high end" pedals with their TimeFactor, ModFactor, and PitchFactor pedals. The H9 had all of those algorithms on it along with their Space pedal and settings specific to the H9. For a few hundred more, I could get an H9 Core, tie it to the same account, and the H9 Max would unlock every algorithm on the Core. I'd have two monster pedals that could cover pretty much everything I could imagine.
I pulled the trigger. For a while, my main board had two H9 pedals on it. You can plug it up to a computer via USB cable and manipulate all of the settings or do so via bluetooth using an iPad. I had ultimate control, could program effects to match specific BPMs, and would never need another delay, reverb, or modulation pedal. You can even find presets to download onto them to mimic classic pedals.
Here's a demo from Andy, then of ProGuitarShop.com's YouTube channel. Yeah, this guy will make you spend some money.
Why Did I Get Rid of It?
As I played around with the effects, I realized three things:
There were a lot of settings that I'd simply never use
I do not have the patience to tweak the effects. I strongly prefer pedals with a few knobs that are clear regarding what they do
the pitch shifting effects left a bit to be desired. If you look at the picture of the recording board, I own an EHX POG 2 because, in my opinion, the tracking on the H9 left a lot to be desired.
What's tracking? It's how well system creates the shifted notes. The POG 2 can handle multiple notes played at a time while the H9 cannot.
The H9 Max has some really cool, powerful delay and reverb presets. While I've been able to tweak those, I'd turn to my TC Electronic Nova Delay because of how easy it is to tweak and understand what the controls do.
In the end, I used the H9 for modulation. While I came close to using it numerous times only to fall, I'd fall back into the comfort zone of my other pedals and wouldn't use it. I did use a recreation of the Boss PH-1 pedal for the opening to Cold the Winter's "Spin", but that was it. That was A LOT of money to use one effect once.
Would I Suggest It?
You might be curious if the H9 is worth it. Pete Thorn, a well-known gigging guitarist, used to use two of them and I believe still has one on his board. The H9 is a versatile pedal that puts numerous pedals that you'd probably never use at once into a neat and tidy package right at your feet. It's incredibly easy to fine tune the controls via the PC or iPad app and tweak to your hearts content, but you have to know what you're doing.
You'd easy spend more then $700 buying the different modulation, delay, and reverb effects in order to get the same level of versatility you get in the H9. Even pedals like the TC Electronic Hall of Fame and Flashback that have numerous settings don't get the depth that the H9 does. Heck, last I checked, 3rd party company puts out a product called an EvenMIDI that connects via MIDI and allows you to tweak the controls using regular ol' knobs instead of the digital PC or tablet interface.
As for me? No, I personally wouldn't suggest it unless you're someone who loves to tweak settings to your heart's content. I actually sold my H9 Max to JD, so I do have easy enough access to it. He loved tweaking that thing to coax different sounds out of it. I might not be the happiest with how the mix turned out on Low-Fi, Nice Try's Waiting Drove Us Mad, but the lead guitar tone on "Doing It Right" came from the H9 and I love the heck out of it.