The Little Brother
What About Vintage?
What I Mic It With
Would I Suggest it?
The Little Brother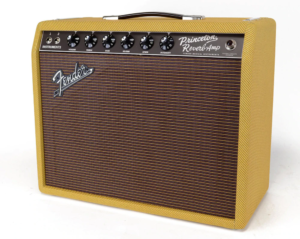 The Fender clean tone is one of the classics. It makes complete sense that Fender would reissue new versions of the old amps, like the Princeton and Deluxe Reverbs. I chased that tone for a long time and found it in a Deluxe Reverb Reissue, sometimes abbreviated as a DRRI in online conversation.
When I bought my PRS Ted McCarty SC245, I tried it out on an Egnater Tweaker combo amp and decided that it's Fender voicing was "close enough". I stuck with that for almost a decade before buying another Fender.
This time, instead of a DRRI, I bought a Princeton Reverb, it's 15w little brother. Normally, a Princeton Reverb have a 10″ speaker and a smaller cabinet to math. People have mixed opinion of the 10″, with some saying it sounds to boxy and small. When I stumbled upon the model you see above on Sweetwater's site, I was immediately interested. That model came with a 12″ Eminence Cannabis Rex.
While 15 Watts isn't all that much quieter than the 22 watts of the DRRI, but it has less "headroom", which is to say the sound starts to dirty up sooner. At this point, we lived in a house and I could crank the amp when the family was away.
Did I mention that 15 watts is really loud?
What About Vintage?
What I Mic It With
Would I Suggest it?

In a world of noise, be sound.