The '92 Tele
One of My Best Deals
The Big John Wizadry
I Can Admit That I Was Wrong
The '92 Tele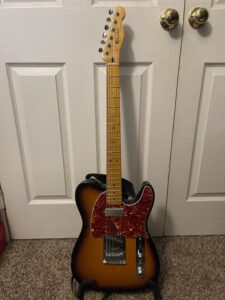 Twenty years or so ago, having owned a Japanese E-Series Squier Stratocaster, a cheap Lyon Strat copy, and a $99 Les Paul Special II, I was as versed in cheap guitars as a kid in the late 90s could be. OK, so that E-series strat would prove to not be so cheap as time passed, but that's not the point.
A friend of mine owned a Squier Affinity Telecaster. Those were, and I think still are, the cheapest of the Squier line. I hated that Telecaster and so I hated all Teles. I hated the headstock. I hated the "not quite Les Paul" single cutaway. I hated the silver neck pickup. I hated the control plate. It wasn't a Strat and therefore it was inferior. I still played it when we hung out though. Hell, I think there's even a picture of thinner, 19-year old me with a shit-eating grin on my face while playing it.
For years, that Tele shaped my opinion of all things Tele until I had the opportunity to buy one SUPER cheap. I never said my opinions were good.
One of My Best Deals
Pawn Shopping
This story is where you point to your kids and say "Kids, this is how NOT to do things. This is how to be dishonest and swindle a pawn shop". In my defense, don't most pawn shops take advantage of and swindle people who are desperate and in need of money? I mean, I'm no "Robin Hood of pawn shops" here, but I was just taking a little back for the little guy.
I used to stop at random pawn shops to see what they had. My wife and I called it "going pawn shopping". There was a chain that used to have a very particular pricing system that displayed how much money they had invested in an item right on the tag. If you didn't know the system, you just thought it meant nothing. Except, someone I knew who used to work there told me the code and I used it to score some killer deals.
Just a Look
My wife and I were coming back from doing something I can't remember over in Dallas. I'd spied the pawn shop in question on my way there and pulled in on the way back.
"I'm just going to look," I told her, stressing the word look. I was not being dishonest…I had no intention of buying anything. We walked inside and on the wall hung a Tele that had seen better days. It was a three color sunburst with a black pickguard. Remember, I was not fond of Telecasters, had not given one a single thought, and this one was no different. However, it was the only decent guitar on the wall.
I picked it up and noticed the bridge was odd. I used my phone to Google what it was and learned it was a Fishman VT Powerbridge, which contained a piezo pickup generally used in acoustic instruments. While I had a high level understanding of what it did, it wasn't of much interest to me.
The guitar had a couple of Rio Grande Muy Grande and Halfbreed pickups. I had no idea what that brand meant, but it didn't have the silver cover on the neck pickup, so that was a win.
I looked at the tag and the pricing scheme told me the pawnshop had $50 invested. They were asking $300, which wasn't shabby for a Made in Mexico Fender. 
The sales rep came over and I asked for a cable to try it out. While I waited, I strummed a few chords. The neck was quite comfortable and was one of the nicer necks I'd played at that point in time.
When the rep arrived with the cable, I plugged the guitar up, turned up the amp a little, and strummed a chord expecting the worst.
Bzzzt-grrrch 
It was worse than the worst I'd expected. The guitar didn't even work. It made this fizzy electronic sound. I recognized it as the sound that active pickups make when the battery they need to power them is dead. I turned the guitar over for the first time and saw a battery compartment.
"Of course the Fishman is active," I thought to myself. I'd known this but didn't even think about it. I took the battery out and put it to my tongue. It was dead as a doornail.
A Lie By Omission



I pulled my wallet out and saw $85 in cash from a pedal I'd sold a few days before. They had $50 bucks in so I was hoping they'd take a 70% profit.
I called the sales rep over, explained that the guitar wasn't working right, plugged it in, and showed them the "bzzzt-grrrch" noise. He made a face. That particular sound isn't all that pleasant.
The rep went over and asked the manager. The manager came over, I showed them the same noise, and he immediately agreed to $85 out the door. For the price of $75.83 plus tax, I walked out of the pawnshop with a beat up Tele.
Should I have told them about the battery thing? Yes, probably. I didn't lie…I DID say it wasn't working right. I just omitted how easy of a fix it would be.
It Worked Out
We got home, I put a fresh 9v battery in, and it work right away. In spite of the numerous chips, scratches, dents, and damage already done to it, the guitar played and sounded great. Normally, Telecasters are on the brighter side, but the Rio Grande pickups really tamed that. I eventually swapped the pickguard for a tortoiseshell pickguard.
Unfortunately, as things sometimes go, money became tight and I ended up selling for the guitar for $450. A month later, I got a major bonus that would have kept it home. I really missed that guitar. But, life is full of quirky twists and turns.
As luck would have it, a few months down the road, the same guitar come up on Craigslist, emailed the guy, and it was the same guy I'd sold it to. I immediately offered to buy it back for what he'd paid me for it, he accepted, and the guitar was back home.
The Big John Wizadry
John Oliviera of Big John's Guitars is a wizard.
John has worked on every guitar I own. While he's out in Denton, TX, the drive is absolutely worth it. Over the years we've had a number of conversations and our time's up before I even know it.
I think the very first work I ever had him do was swap the Rio Grande pickups out of this with the pickups in a '96 American Telecaster I'd picked up after buying this. I ended up selling that USA Tele with the newly installed Rio Grande pickups to Guitar Center for what I was asking for it, which is a rare feat.
Shortly after quickly falling out of love with the USA stock pickups, I reached out to John and began inquired about a pretty significant bit of work. We went back and forth and discussed changing pretty much everything:
adding a vaneer and refinish

installing GFS Power Rock pickups and wiring them however he wanted


a refret with stainless steel frets

staining the neck a vintage amber

applying a spaghetti-style waterslide decal

changing the dot inlays to abelone

adding new tuners

Pickups/Electronics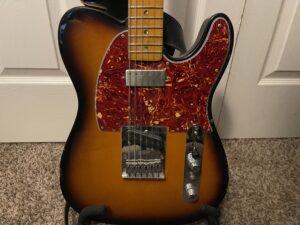 Initially, John suggested a set of GFS Power Rock pickups. They are stacked humbuckers that look like regular telecaster pickups but with increased, noiseless output. He wired them in the following setup on a 5-way switch:
5 – Neck in series

4 – Neck in parallel

3 – One coil from each pickup in parallel

2 – Bridge in parallel

1 – Bridge in series
Positions 2 and 4 offer this really mellowed out sound that really pulls back on whatever drive pedal I'm using. I often use it for playing cleaner parts with just a hint of drive. If you mix in a little bit of the Piezo bridge, you'll find layers of sounds that the magnetic pickups alone don't give.
We replaced the volume knob that controlled the magnetic pickups with a concentric knob, which are two knobs in one, so I could have both a tone and volume control. The Piezo bridge knob retained its single knob.
In 2021, and after 13 years, the neck pick up began to lose some of its oompf while the bridge pickup kept trucking along. I bought a Seymour Duncan Antiquity II Mini Humbucker, new pickguard, and John replaced it and wired things back up.
The Neck and Tuners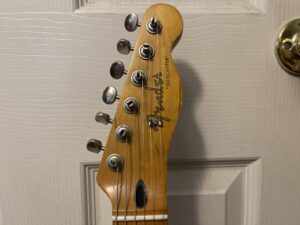 If the neck was comfortable before, John took that comfort to a luxury level. He has a service where he contours the fretboard and I had him make that adjustment to my tele. In the nearly 14 years since he worked that magic on the neck, it's been back once for a very minor tweak.
I bought some Wilkinson vintage-style tuners off of the GFS site and installed them myself. I've always been fond of the way those looked and thought it classed the neck up a bit.
In April of 2022, it came time to change the strings in preparation of starting recording Volume Four. I swapped out the Wilkinson tuners for a set of Fender Locking Tuners I'd installed on my '95 Fender Stratocaster. It's hard to beat those locking tuners. It makes restringing a breeze.
With the serial number wiped away due to the neck refinish, I had a local shop at a nearby mall engrave it on a new neck plate. It looks terrible. It's the one part I want to get redone, but I'll have the Serial Number added to the back of the plate instead of the part you can see.
Are the Neck and Body Actually USA Made?
I will probably be corrected and I welcome the correction, but after Googling around, in the early '90s (I think until '93) the Fender plant in Mexico didn't have the machining hardware available to make their own necks and bodies yet. American made necks and bodies were shipped down and the guitars were then assembled with the normal hardware and electronics found in the Mexican-made Fender line at the time.
That's something that's been debated, disputed, proven, and disproven on forums for years. Even if that isn't the case, the wood in this guitar has held up quite well in the nearly 30 years since it's construction. The electronics, with the exception of that Fishman Piezo bridge, have been completely replaced, the wiring upgraded, and some definite wizardry done to the pickup options I have access to.
I Can Admit That I Was Wrong
The Tele was my go-to guitar to play and travel with for a number of years. I look back on my initial opinion of them and realize just how wrong I was.
I once thought that Stratocasters were the superior guitar. Over the years, I've owned too many Strats from every country they're manufactured in, but I never found that I felt a connection to. I even own one now that simply sits in the case and rarely gets played.
It took me one Tele to fall in love with the guitar. One, and it was even close to top of the line. Sure, the wizardry helps, but it was a great guitar when I picked it up off the hanger at that pawn shop so many years ago.