In late 2022, I bought a Monoprice W1-270AH 1440p monitor, but I could never find good information about it on Google. I'm making this page in hopes that it helps someone else. This post doesn't really have much to do with music, streaming, gaming, painting D&D miniatures, or anything else that I use this site for. Heck, it might not even show up on any Google searches, but in the event someone is faced with the same situation I was, I wanted that person to know they weren't alone.
Spoilers: I no longer own the monitor, but a friend of mine does. In the end, it did not fit my situation, but it did his. While I can't currently get any additional info about it, it is possible that I can at some point in the near future.
Going Full 1440p
I recently decided that I wanted to upgrade the secondary monitor of my gaming PC from a 1080p monitor (an underrated BenQ GW2480) to a 27″ 1440p monitor. Sometimes I move windows around and moving from a 1440p monitor to a 1080p messes with my brain. Rather than buying something new, I often check the local Facebook Marketplace listings, which I did here.
Lo and behold, within minutes, I found someone local selling a Monoprice 27″ 1440p monitor for $120. That's pretty solid for a 1440p monitor, even if it had pretty basic features. It had DisplayPort and HDMI inputs, a USB-C slot which powered two USB 3.0 slots, and a 60hz refresh rate. Nothing great to write home about, certainly not a gaming monitor, but as a secondary monitor for browsing the web, doing something in Office, or even watching some basic YouTube videos? Solid stuff.
I asked the seller for some details but they weren't able to really provide much. They didn't have a model number or know if the monitor was VESA-compatible, but I was not detered. The picture he sent of the back of the monitor LOOKED like the stand came off. There was even a little switch that looked like it'd be the way to get the stand off. Off my wife and I went, money was exchanged, and I brought the monitor home.
Getting It Home
The label on the back of the monitor listed the model number as W1-270AH. There is absolutely zero info on any Monoprice monitor with that W1-270AH as the model number. I can't find a manual so I realize that I'm on my own to determine any and all information about this W1-270AH monitor. That's why I'm making this page. Perhaps someone else might stumble upon this and this might be of help to them. I did actually find one result with pictures that matched the monitor, but I couldn't access the site, which was not related to Monoprice.
Did Monoprice simply slap their label on a cheap-o monitor and add W1-270AH as a random model? Probably.
The Picture
Ignore the messy D&D painting area. There are pictures of two different backgrounds. I didn't have a monitor review in mind when I took them. Instead, I was taking them to show the friend that now has the monitor a) that it worked and b) what the picture looked like at a glance.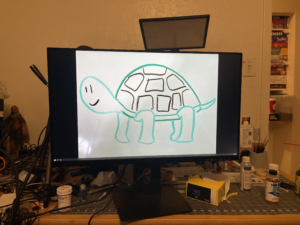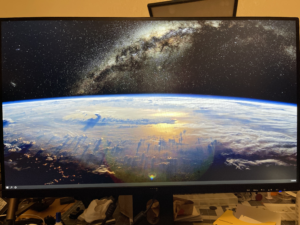 Is it the greatest pictures I've ever seen? No, but the blacks looked good, especially in the picture of the turtle that a friend on Twitch drew me, but also in the picture of earth.
The Stand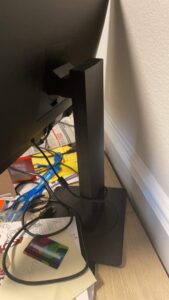 I'm not going to lie, it's a decent stand. The monitor itself is already heavier than my other monitors and the stand adds a decent weight to it. There's not much to being able to angle up or down and raising/lowering the monitor on the stand was a bit too easy to do. I prefer even just a little resistance, but once it was in place, it stayed there…as long as you didn't touch it.
That little switch looking thing at the bottom of square? It definitely removed the stand. There are three pieces that slide into the monitor itself and then it clicks into place.
Here was the dealbreaker for me. Underneath where stand attaches are four screws. That makes you think it's VESA-compatible, right? It's not. The holes are wider than 100×100. It might be 110×110 or something. I couldn't mount it on an arm and, with my setup, that meant I couldn't make use of it.
The Buttons
Yeah, I didn't think to mess around with these much, but they definitely had a clicky, tactile feel to them. What I did see of the menus and navigating them would be clunky at best. Fortunately, the picture looked pretty good with the standard settings so I didn't mess with them too much. The button labeled "exit" was how I was able to cycle through the different inputs. Now that I think about it, there were three inputs available, so perhaps the USB-C could power a monitor…that or there's a VGA input. I honestly can't remember.
Setting It Up at John's
I asked my friend, Big John, if he was interested in a second 1440p monitor, and he said yes. Once we set it up, we changed the basic Windows 10 background. That background had blues weren't entirely uniform and there were some splotchy colors, but it still looked good…a solid B. I didn't see any weirdly darker or light spots, terrible backlight bleed, or anything else you normally read people talking about in monitor reviews. There were no dead pixels. It was what I expected it to be.
As I mentioned at the top of the page, it has a DisplayPort and HDMI input. I hooked up a spare DVI to HDMI cable into the HDMI port, but the monitor wouldn't recognize it. Plugging an HDMI cable fixed that problem. I did confirm the DVI to HDMI cable was bi-directional, but I could see this monitor being finicky about it. Big John's PC currently has a Gigabyte GTX 1070 8GB card in it, had a MSI 770 Twin Frozr 2GB card before that, and both put out a 2560×1440 60hz picture without any issue.
I'm not sure if the USB-C could power a monitor, but I did confirm running a USB-A to USB-C cable to the monitor did power the two USB 3.0 jacks. Those ports powered a Logitech C920 webcam from it without any issue into Discord. I know…super scientific testing, right? The picture coming from the webcam was smooth and without hiccups, and I figure that's what the typical consumer is looking for.
The monitor has a DC-style barrel port instead of a power brick. That's not a huge deal, and some might even find it preferable. I did worry about the ability of the plug to stay plugged in since it wasn't the tightest fit, but it hasn't been an issue for Big John.
Conclusion
While I was disappointed with the whole stand/VESA mount situation, my disappointment was my friend's gain. The monitor had a solid picture, DP and HDMI inputs, and some heft. It's going to work great for him.
The seller said he paid $200 for the monitor. For that price, I've seen monitors from known manufacturers for that price or less pop up on /r/buildapcsales on Reddit, like the refurbished Acer KW272u (W stands for Wal-Mart…it's apparently the same as the Acer KA272u) I ended up buying for $150 and eventually moving into my daughter's room as her main monitor.
Would saving $30 and having this one work out have been a better situation? Sure, but in the end, my friend ends up with a solid monitor, I got to have a little monitor adventure, and if someone finds this and is able to make use of it, even better. Is the W1-270AH right for you? Depending on the price, maybe. If you need to use a monitor arm, then no, it's not. It sucks that a company like Monoprice wouldn't have any information on a W1-270AH 1440p on their site, but maybe I'm expecting too much.