Back in 2021 when I started work on Volume Four before burn out caused me to stop, I put together drums for what would become "Go On" and eventually "It Feels Familiar". This song is apparently in 6/8 but I don't remember choosing grooves in 6/8. The only reason I know it's that tempo is due to the fact that the numbering of the bars for Studio One were not lining up with the numbering of the bars in Superior Drummer 3.
The Rhythm Guitar
The interesting thing is while I recorded a rough draft of "Go On", I never recorded whatever I wrote for what was called "song 2", and after not working on music for almost a year, I was drawing a blank on what I played with the drums. What I did remember was something that was basically a "G-D-Em-C" chord progression, which is one of the most often used progressions (I-V-VI-IV).
For those of you who aren't familiar with what that means, in the G major scale you have the following notes: G A B C D E F#. With that in mind, G is the first note, D is the fifth, E is the sixth, and C is the fourth. I used an E minor chord. I digress.
Part of the name of this song comes from just how familiar the chord progression is. If you go to YouTube and search for the Axis of Awesome 4 chords you will find the following video that will clarify just HOW familiar it is.
I wanted to add a bit more to it, so I extended that four chord progression to be G-D-Em-Bm-C-G-C-D. There are two songs that I think of when I think of that progression: Blues Traveler's "Hook" and an old hymn I used to sing in church called "Give Thanks". Funnily enough, back when I used to lead music on Wednesday nights, I played "Give Thanks" in a similar style of Bush's "Glycerine".
To give it a slight twist, which an oft-used progression needs, I took the shape of barre chords from the A string but only played 3 notes from each chord like this: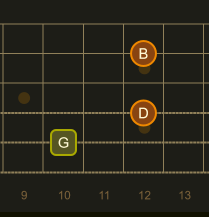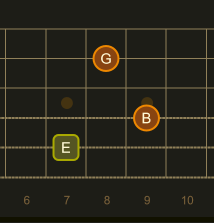 This 8 chord progression only fit with the chorus, but I was left with no possible clue of what I did during the verse. In messing around, a slower Em-C-G-D progression worked. I wanted it to feel completely different than the chorus did and so I kept the chords real sparse.
That brought me to a pre-chorus and I simply threw Asus2 and C9 (I think) as filler chords but it eventually stuck.
Now here's where what little understanding of music theory I have goes out the window. For the bridge, I keep the theme described in the chords shown above and go with an F-Em-D progression. I'm not sure if that's a key change, a mode, or whatever it is. It just spilled out of my hands, I liked how it sounded, and I went with it. Heck, for all my talk about I-V-VI-VI I might be completely wrong about the scale the songs in. I've rarely ever tried to actually figure that stuff out.
The Second Guitar
I immediately heard a melody in my head for the chorus and that part came together pretty quick. It's a simple melody, one that I just know I've heard somewhere before, but Shazam didn't recognize it, so I ran with it. The verses proved to be more of a challenge. I remember playing the chord progression on my looper pedal and really struggling to come up with something that connected to the rest of the song. What I ended up playing happened by accident, but it just worked. Then it was a matter of kind of planning out how to connect everything together.
Interestingly, during the second verse of the song, I actually messed up. You can hear that it's not the same thing I played during the first verse, but I was already starting to get up there in the number of takes it was taking me to get the part done and I left it in.
Now, for the solo at the end…yikes. That took a whopping 114 takes, but it was worth it because I remember Ellie (my youngest kid) saying "I like how it repeats". If there's one thing I think I need to work on, it's letting parts breathe and having breaks and pauses. I think I moved in the right direction with that solo.
The Bass
The bass line in this song is interesting. It's not quite a walking bass line because, well, I think I'm incapable of writing one of those, but it moves in a similar way to a song off of Volume Two called "The Moment it Clicks" and I'm really happy with how both parts worked out and added to the song. The bass was having some real issues with string rattle and while it works for some songs, it was not working here. I had to EQ the crap out of the bass to remove as much of it as I could and I think the bass part suffered for it. This one was recorded in two parts because I made it a good halfway through the song and didn't want to start completely over.
The Piano
Much like "Go On", I added a keyboard part to this song using Toontrack's EZKeys software. I used an electric piano setting that has some nice reverb and tremolo on it. The MIDI grooves I used and changed the chords on ended up working really well with the song. I love the high ringing chords during the verses. The piano gets a bit buried during the verses but it fills in the hole that was in the center channel really well.
During the bridge, however, is where I really think it's cool. It just coincidentally worked out to have this little drifting notes between the lead parts and this really cool walk up after the second cycle through. That same walk up plays as it goes back into the chorus, but I changed the octave of first time through so it just peeks out from between the guitars, but the higher octave of the second time leads perfectly to that chorus.
The cool thing you can do with EZKeys is change the inversion of the chords, which I'm guessing changes the octave of how the chords are played, and I did that on pretty much every chord. I wanted the inversions to build up and down as the chord progression did. I made sure the piano part worked with each guitar and bass part separately.
In the End
In spite of the song taking a lot of takes to get right, and going through probably the most versions before settling on the final one, I was really happy with how it turned out. If I could go back and change it, I'd likely make the second guitar part a bit brighter with an EQ, but I'm not unhappy enough with it to do that.